Dr Ken Law delivers babies at Greenslopes Maternity, and aims to deliver the best obstetrics care in the most modern, comfortable and well-equipped facilities.  Greenslopes maternity is one of the leading maternity units in Brisbane, and features modern sophisticated birthing suites with all the equipment and facilities to make your labouring experience as safe and satisfying as possible, including the latest wireless fetal well-being monitoring device with secure remote access for the obstetricians, and 24-hour access to a dedicated emergency operating theatre.  It is backed by 24-hour anaesthetic and paediatric specialist support, and a fundamental part of Greenslopes maternity is a 10 cot Special Care Nursery that is able to provide care for babies born from 32 weeks.
Dr Ken Law is one of the top obstetricians in Brisbane who offers individualised care, respecting the individual needs and desires of his patients, whilst ensuring maximal safety for both mother and baby.  He has managed the safe delivery of hundreds of babies, and has great experience in normal births as well as operative deliveries.  The birthing experience will be tailored towards individual birthing preferences and birth plans when it is safe to do so.  He believes mothers should be able to make well-informed decisions about their choices for mode of delivery, and supports women requesting elective Caesarean deliveries for maternal request and women desiring vaginal birth after previous Caesarean section.
To provide the highest standard of modern obstetric care, Dr Ken Law has the latest 3D/4D ultrasound scanner right in his consultation room, and can use the ultrasound scanner at each of your antenatal visits to see your baby in real-time.  This helps you and your partner to start bonding with your baby early, even before he or she is born!  He can give you print-outs of your baby's images, and let you start compiling your baby album before your baby arrives.  There are no out-of-pocket expenses to you for these obstetric ultrasound scans.
At Greenslopes Maternity, Dr Ken Law looks after both normal low-risk pregnancies as well as high-risk pregnancies.  For complicated high-risk pregnancies, Dr Ken Law works closely within a multidisciplinary team of medical specialists and Allied Health Professionals at Greenslopes.  This includes a diabetic educator, dietitian, pregnancy physiotherapist and clinical psychologists, who all consult directly from within his Practice at Greenslopes Obstetrics and Gynaecology, saving his patients both time and travel costs.  Dr Ken Law works closely with Endocrinologist Dr Christina Jang and Obstetric Physician Dr Ann-Maree Craven, who have extensive experience in managing complicated medical disorders in pregnancy.  Greenslopes Obstetrics and Gynaecology is the only Private Obstetrics Practice in Brisbane that can offer patients a comprehensive service with experienced obstetricians, medical specialists and allied health professionals all working at the one location.   Whenever possible, appointments to see the multi-disciplinary team of health professionals can be scheduled concurrently with your antenatal check-up visit.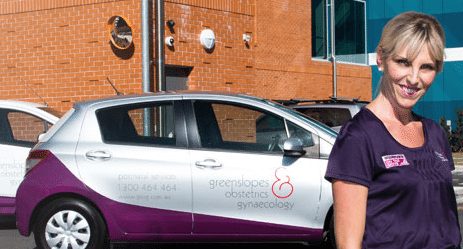 After your delivery, Dr Ken Law will arrange for his post-natal midwife to visit you at home to ensure that there are no ongoing issues, such as with baby settling or with breastfeeding, and to check your baby's growth.  Dr Law's postnatal midwife will weigh your newborn at your home, and give you great tips for sleep routines and parenting.  There are no out-of-pocket cost to you for these post-natal home visits.
Dr Ken Law's consulting rooms are situated right underneath the birthing suites of Greenslopes Maternity, which means he can attend to deliveries at very short notice.  This avoids unnecessary and unpredictable traffic delays, and means that Dr Ken Law can deal with emergencies very promptly.
Dr Ken Law is also a fully credentialed Visiting Obstetrician and Gynaecologist at the Mater Hospital in South Brisbane, which is about 7 minutes drive from Greenslopes.   For deliveries of babies under 32 weeks gestation, and for babies who will be born with an estimated weight of under 1.5 kg (~3.3 lb), Dr Ken Law will continue to be your Obstetrician looking after you, and will be able to deliver your baby at the Mater Hospital.  That way, extremely premature babies can be born and cared for immediately in a tertiary level neonatal intensive care unit.
Dr Ken Law is one of eight dedicated Obstetricians who are based principally at Greenslopes Maternity in Brisbane.  He works closely together with the other Obstetricians within the Greenslopes Obstetrics and Gynaecology Practice, who all share similar philosophies toward woman-centred holistic care. 
Greenslopes Maternity opened in February 2013, and is the newest maternity unit in Brisbane for over a decade.  It aims to provide five-star service in a five-star hotel-style accommodation.  It offers state of the art, modern amenities, and all newly built private rooms are equipped with the finest facilities.  It is the newest maternity service in Brisbane providing women with the full range of safe birthing options.
New Dads can also share in the experience, and are encouraged to stay with the new Mum and Baby at Greenslopes Maternity, with half of all rooms incorporating a electrically adjustable Queen-size bed for a comfortable stay.  All rooms have ensuite bathrooms, free Wifi Internet, large TVs with Foxtel, coffee machines and iPod docking stations.
As an Obstetrician and as a father, Dr Ken Law understands that new parents need some time to rest, and whilst rooming-in with your newborn is important, a Well Baby Nursery caters for your need to get some rest when required.  Greenslopes is one of the very few maternity units in Brisbane to offer this service.  Many women stay for up to 5 nights after a Caesarean delivery, and up to 4 nights after a Vaginal delivery.  Because of how comfortable the facilities at Greenslopes Maternity are, a few of the new mums and dads have requested longer stays in the new unit, but unfortunately most private health funds do not allow for this, unless a longer hospital stay is required for clinical indications!
Learn more about Brisbane Obstetrician Dr Ken Law's background