Ovarian cysts are sacs filled with fluid that can develop in the ovary.  Such cysts of the ovaries can occur commonly in women of all ages. These ovarian cysts can sometimes cause pain or a "pressure" sensation, but many women may have cysts that do not cause any symptoms, and may not be aware that they have ovarian cysts.  Ovarian cysts may be discovered incidentally when women undergo an ultrasound for heavy periods, whilst other women discover their ovarian cysts during ultrasound scan done for abdominal swelling/bloating or pelvic pain.  Some ovarian cysts can resolve over time, and may not cause any problems or need any treatment.  Other ovarian cysts can persist or grow, and cause problems as they grow bigger, or when they rupture or burst.
Rupture or Bursting of ovarian cysts can often cause a sudden onset of severe excruciating pain.  The pain may linger on for a few days after the cyst rupture, until the fluid has been reabsorbed by the body.  Sometimes surgery with laparoscopy is required if the pain is severe or worsening.  Prompt assessment by a gynaecologist is recommended.
Quite often, ovarian cysts do not need to be removed surgically, and can just be monitored with ultrasound scans.  Fortunately most ovarian cysts are benign and are not caused by cancer, but it is important to have a thorough assessment by a gynaecologist to establish a diagnosis.
Ovarian cysts can vary in size, and can range from small cysts less than 1cm, up to massive ovarian cysts greater than 10cm.
Ovarian cysts do not usually cause irregularities in menstruation, apart from some uncommon forms of hormone secreting ovarian tumours.  A consultation with a gynaecologist is important to ensure there are no co-existing abnormalities of the uterus.
Causes of Ovarian Cysts
Ovarian Cysts in Pre-menopausal Women
Ovulation (Functional) Haemorrhagic Cysts
"Functional" ovarian cysts refers to a follicle that grows but does not rupture to release an egg during a normal menstrual cycle.  These functional ovarian cysts will resolve without any intervention.  When bleeding occurs within the functional cysts, they are referred to as haemorrhagic cysts, and can be seen on ultrasound scans.

Dermoid cysts
Dermoid cysts are also referred to as "teratomas", and these ovarian cysts are one of the most common types of cysts found in 20-40 year old women. These dermoid cysts characteristically contain all sorts of unusual tissue, including teeth, fat and hair.  These ovarian cysts are composed of ovarian germ cells, which are the cells in the ovary responsible for reproduction (e.g. the eggs or oocytes).
The majority of dermoid cysts are benign, but occasionally they can be malignant cancer.  A consultation with a gynaecologist is important for assessment, and these cysts will usually require removal by surgery, as they do not usually resolve on its own.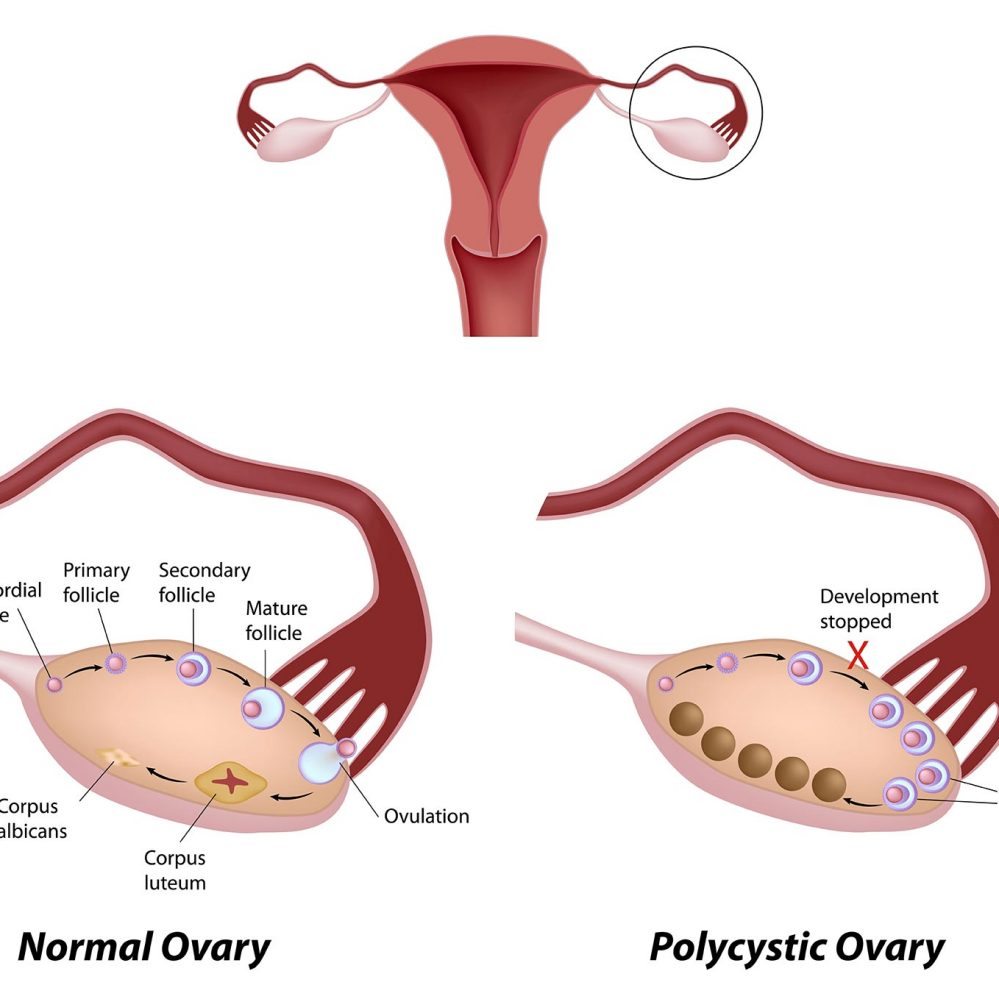 Polycystic ovary syndrome (PCOS)
Having multiple cysts on the ovaries is a feature of Polycystic Ovarian Syndrome.  These ovarian cysts do not usually cause any symptoms per se, and do not require any specific treatment.  However women with PCOS may experience other symptoms associated with their condition, such as irregular menstruation, which may require further investigations and treatment.
When endometriosis affects the ovaries, it can develop a special type of cyst called an endometrioma.  These cysts characteristically contain chocolate-coloured material, and for this reason they are often referred to as "chocolate cysts".
The "Corpus Luteum" (latin: yellow body) is a normal ovarian cyst that develops in early pregnancy.  The function of this cyst is to secrete progesterone hormone, which helps support the pregnancy until the placenta forms. In some women, the cyst remains on the ovary until later in the pregnancy.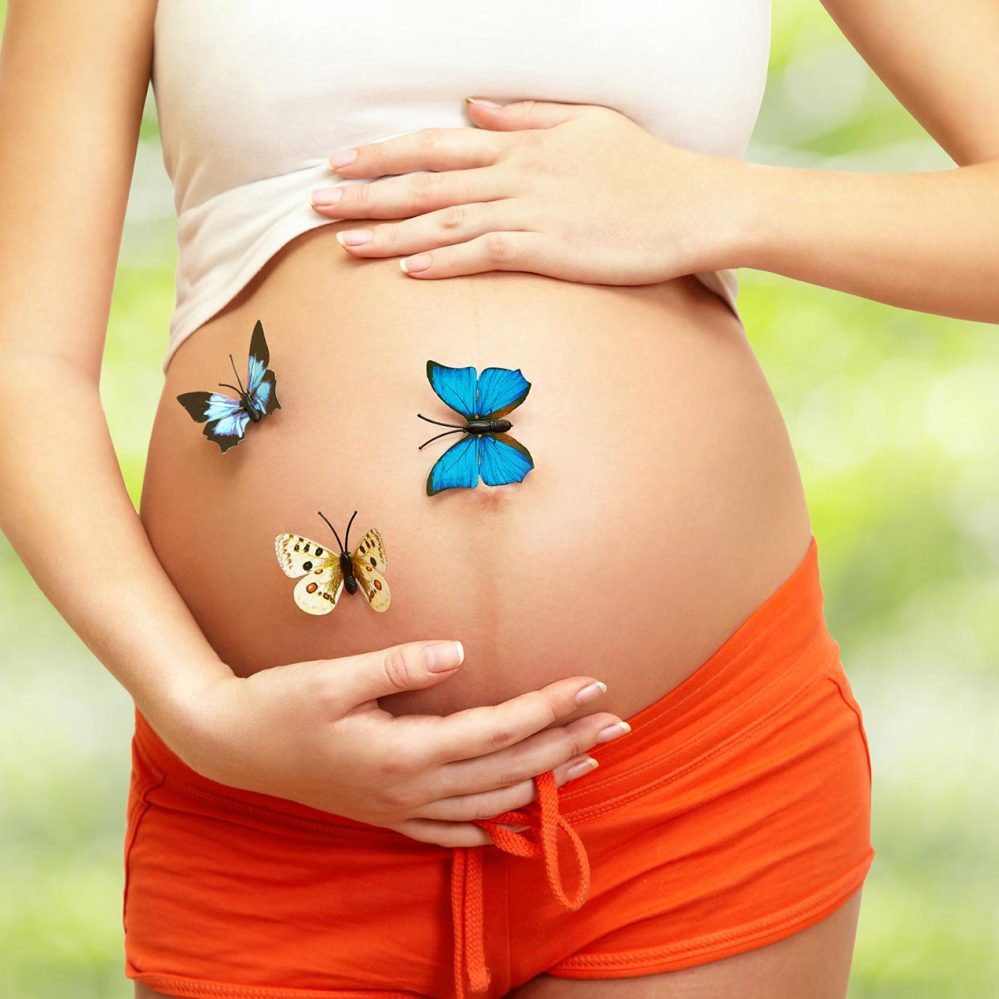 Severe Pelvic Infections
When pelvic infections are severe, bacteria may spread to involve the ovaries and Fallopian tubes. This results in cysts filled with infected pus, and can form within and around the ovary and Fallopian tube.  These infections can be serious, and prompt treatment by a gynaecologist is important.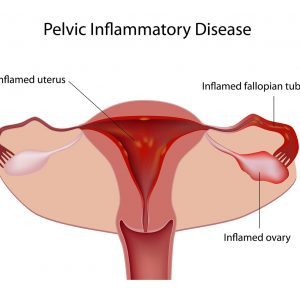 Non-cancerous ovarian growths
Benign growths on the ovaries can occur in young women.  These can include a fibroma, which is a benign firm lump on the ovary
Ovarian Cancer – Germ Cell Tumours
In young women, ovarian cancer is relatively uncommon.  However, a minority of ovarian cysts in young women may be due to germ cell tumours. Your gynaecologist will arrange tests to look for signs of these ovarian tumours as part of their assessment.  If the ovarian cyst is suspicious for ovarian cancer, Dr Ken Law works closely with a female gynaecological oncologist Dr Amy Tang, ensuring prompt diagnosis and treatment for ovarian cancer by a gynaecological oncology sub-specialist.
Ovarian Cysts in Post-menopausal Women
In post-menopausal women, ovarian cysts are more likely to be caused by cancer than in pre-menopausal women, and a detailed assessment by your gynaecologist is essential.
Risk factors for Ovarian Cancer include:
Family history of ovarian cancer
Previous personal history of breast or bowel cancer
Increasing age
Symptoms of Ovarian Cysts
Ovarian cysts may not cause any symptoms or problems, especially when they are small.
Some women may experience pain or pressure, and this is usually felt on the side of the body where the ovarian cyst is found.  Some women may feel a bloating sensation, or just a sensation of "fullness" in the abdomen.  The pain experienced by each woman varies, with some women describing a dull pain, whilst others may describe a sharp stabbing pain.  The pain may be constant, or it may be intermittent, with some women experiencing the pain "in waves".  The pain may also be felt during sexual intercourse.  If the ovarian cyst ruptures, a sharp sudden severe pain may be felt.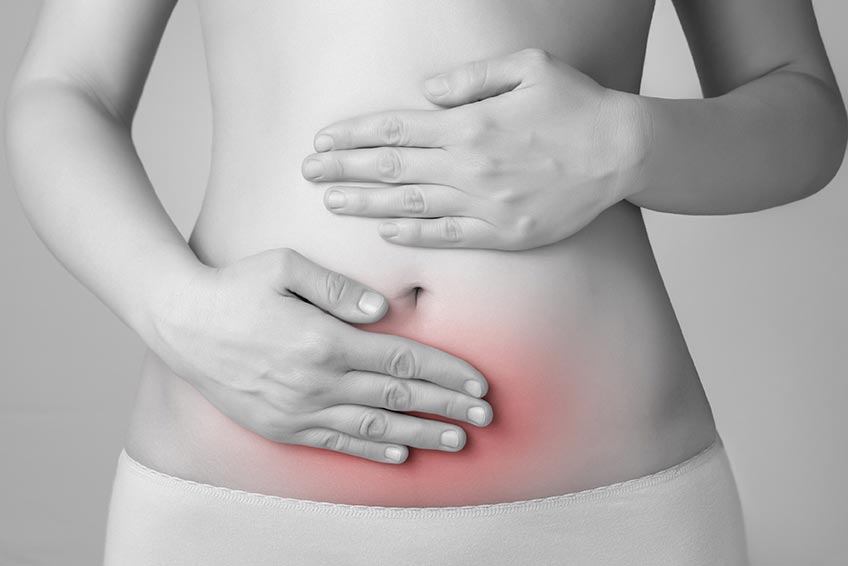 Because the ovarian cyst makes the ovary bulkier and heavier than it normally is, this can make the ovary prone to twisting on the stalk to which it is attached to the pelvis.  This twisting of the ovary is known as "ovarian torsion".  It can cause excruciating pain, and may be associated with significant nausea and vomiting.  If ovarian torsion is suspected, an urgent laparoscopy (keyhole surgery) may be required to "untwist" the ovary, before the blood supply to the ovary becomes compromised for too long and the ovarian tissue becomes non-viable.
Brisbane Gynaecologist Dr Ken Law specialises in the diagnosis and treatment of women with ovarian cysts.  To discuss your specific condition and to have a thorough assessment of your ovarian cysts by a Brisbane Ovarian Cyst Specialist, contact Dr Ken Law to arrange a consultation at Greenslopes Obstetrics and Gynaecology.